Afghan Hound Calendars 2021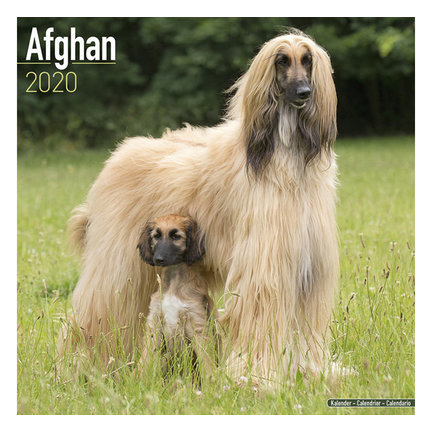 The most beautiful Afghan hound calendar 2021
In a real Afghan hound lover like you can a beautiful calendar as this certainly not lacking. The Afghan Hound 2021 calendar features 13 truly brilliant record of this wonderful dog, which elegance, power and exudes speed. The Afghan hound is adorned with striking, long, silky coat is thus particularly impressive for anyone who encounters him on his path. Some people want to after seeing this almost Mysterious Oriental appearance of the Afghan Hound any other breed more. Their heart is stolen by this intelligent dog. Is that the case with you? Order immediately your Afghan Hound Calendar and give him a beautiful spot on the wall!
Ideal as gifts for dog enthusiasts
Maybe you are not a fan of the Afghan Hound, but do you know somebody who is. What could be more fun this beautiful Afghan hound Calendar him or her gift to do? The lucky recipient can now every day enjoying the beautiful images of the cutest and most Afghan Greyhounds. The convenient hook on the calendar ensures that it can be hung anywhere neat. Some popular sites for this include the hall, kitchen, office and toilet. Surprise your boyfriend, girlfriend, family or colleagues with this beautiful Afghan hound calendar and order it directly. Kalenderwinkel.nl provides you with this convenient wrapping service. So the calendar is directly festively wrapped and you give him equal to the receiver!
Practical and convenient calendar of the Afghan Hound
The Afghan hound calendar is carried out in a convenient square construction and has a size of 30 by 30 centimeters (30 extended at 60 centimeters). Each month consists of two calendar pages. For each month of the year has added a beautiful picture in the best quality of the best Afghan Greyhounds. In addition, the spacious date display enough space for all your meetings, personal anniversaries and other important moments in an orderly manner to score. The major holidays such as King's Day, Christmas and Easter are already fixed for printed. This calendar is not only beautiful, but also very practical!
Easy you buy Afghan Hound calendar 2021 with Kalenderwinkel.nl
Ordering your new Afghan Hound Calendar is easy to Kalenderwinkel.nl. Have you ordered the favorite product before 17:00? usually you have him the next day. Orders from 40, - are also totally free home delivery within the Netherlands. Get your prefer us on the calendar? That is of course, just at our location in Hoogland (near Amersfoort). Payment with us in various ways, such as iDEAL, Visa and AfterPay.
Read more
Close