Staffordshire Bull Terrier Calendars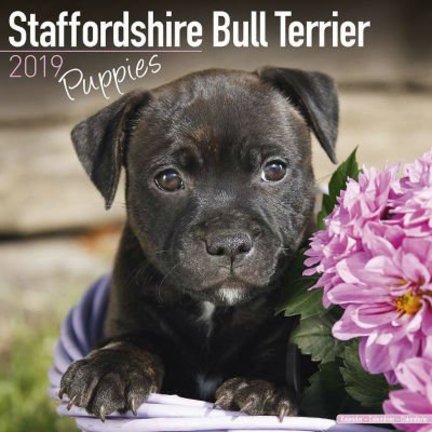 The most beautiful Staffordshire Bull Terrier calendars
In a real Staffordshire Bull Terrier lover like you would a beautiful calendar as this certainly not lacking. The Staffordshire Bull Terrier calendar features 13 truly brilliant record of this wonderful dog, which was originally bred for bull and bear fight .. The Staffordshire Bull Terrier is among the group of Terriers. Through his muscular, stocky and graceful appearance, he is very impressive for anyone who encounters him on his path. Some people want to after seeing the medium, reliable and protective Staffordshire Bull Terrier no other breed more. Their heart is stolen by the brave but also loving dog. Is that your case? Order directly your own Staffordshire Bull Terrier Calendar and give him a beautiful spot on the wall!
Ideal as gifts for dog enthusiasts
Perhaps you yourself are not a fan of the Staffordshire Bull Terrier, but you know somebody who is. What could be more fun this tough Staffordshire Bull Terrier Calendar him or her gift to do? The lucky recipient can now enjoy every day of the most beautiful images of the nicest and most beautiful Staffordshire Bull Terrier. The convenient hook on the calendar ensures that it can be hung anywhere neat. Some popular sites for this include the hall, kitchen, office and toilet. Surprise your boyfriend, girlfriend, family or colleagues with this beautiful Staffordshire Bull Terrier calendar and order it directly. Kalenderwinkel.nl hereby presents a handy wrapping service. So the calendar is directly festively wrapped and you give him equal to the receiver!
Read more
Close